Regular price
Sale price
$19.99
Unit price
per
Sale
Sold out
Made from 100% GOTS Certified Organic Cotton
No harmful chemicals or dyes used.
Extremely soft breathable fabric
Available in sets of 1 or 2 pieces
Share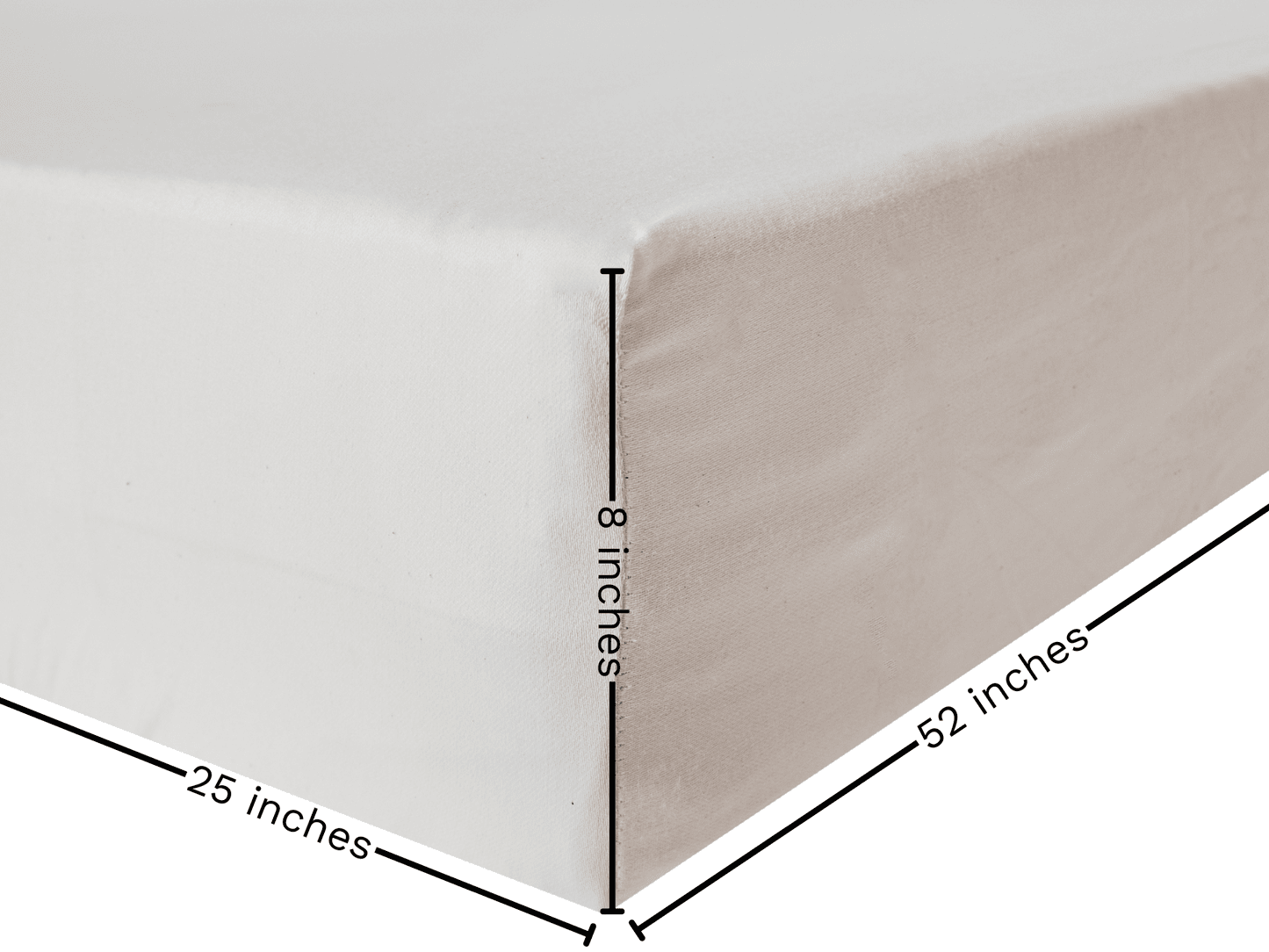 PURE COMFORT, PURE ORGANIC - Experience the utmost comfort for your baby with our Organic Cotton Fitted Crib Sheet. Crafted from 100% organic cotton, this sheet is the epitome of softness and safety, providing your little one with the best sleep possible
CUSTOMIZABLE OPTIONS - Choose between a convenient 1 pack or a value-set of 2 cotton crib sheets to cater to your baby's bedding needs. Always have a fresh, organic sheet ready for your baby's sweet slumber
GOTS CERTIFIED EXCELLENCE - Our organic crib sheets are proudly GOTS certified, ensuring they're free from harmful chemicals and ethically produced. You can trust that your baby is resting on bedding that meets the highest global organic standards
NATURALLY NON-TOXIC - Rest assured that our sheets for baby cribs are made with all-natural, unbleached cotton. No harsh chemicals or dyes here – just pure, natural goodness for your baby's delicate skin
BREATHABLE AND HYPOALLERGENIC - Our 300-thread count fitted crib sheets offer breathability and hypoallergenic properties, making them suitable for all skin types. The tight cotton weave ensures even heat distribution, keeping your baby cool and snug throughout the night
Organic Cotton Fitted Crib Sheets
Introducing the Organic Cotton Fitted Crib Sheet, the perfect blend of safety, comfort, and sustainability for your baby. Crafted from 100% organic cotton, this crib sheet is a testament to our commitment to providing the best for your little one while caring for the environment.
Choose between a single pack or a 2 pack of crib sheets, giving you the flexibility to have a spare sheet on hand for those inevitable messes. Our crib sheet is not just organic but also GOTS-certified, guaranteeing that it's ethically made and free from harmful chemicals. Your baby's well-being is our top priority, and this certification reflects our dedication to their safety.
Our 300 thread count crib sheet delivers the ultimate in comfort. The tight cotton weave not only feels incredibly soft against your baby's skin but also ensures an even distribution of body heat. This means your little one will stay cool and snug, promoting a restful night's sleep.
Safety is paramount, which is why our crib sheet is hypoallergenic and suitable for all skin types. You can trust that your baby will sleep soundly without exposure to allergens or irritants. With dimensions of 52 inches long by 25 inches wide, our crib sheet is designed to fit most standard cribs snugly. The elasticized corners make it easy to fit securely onto the crib mattress, so you can relax knowing it will stay in place.
Maintenance is a breeze with our crib sheets. Simply toss them in the washing machine in a cool setting, and they'll come out as good as new. Even after repeated washes, they'll remain soft and comfortable, maintaining their quality and durability.
By choosing our Organic Cotton Fitted Crib Sheet, you're not only providing the best for your baby but also making an eco-conscious choice. Organic cotton promotes sustainable farming practices and reduces your carbon footprint, ensuring a better world for your child's future.
Whether you're a new parent seeking the finest bedding for your baby or searching for a thoughtful baby shower gift, our Organic Cotton Fitted Crib Sheet is an excellent choice. It combines the benefits of organic cotton, GOTS certification, luxury, and safety, all in one product.
BUY NOW and create a cozy, natural, and nurturing sleep environment for your baby.