Regular price
Sale price
$16.99
Unit price
per
Sale
Sold out
Set of 3 Bags - 14"x18"
100% Organic Cotton Mesh
Reusable and Washable
Mesh Fabric allows ventilation to store root vegetables
Multi-purpose reusable produce bags
Share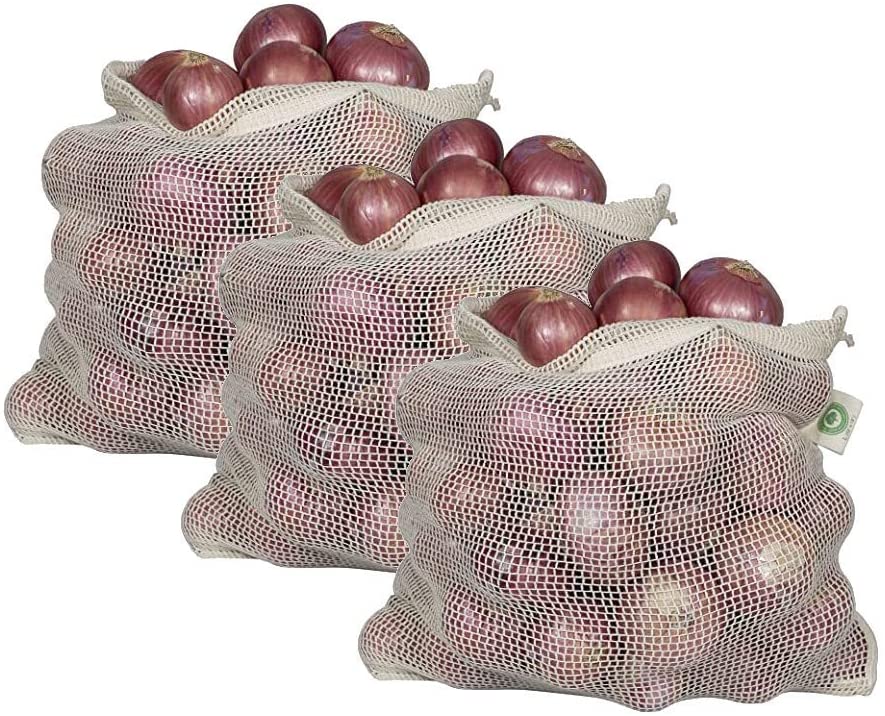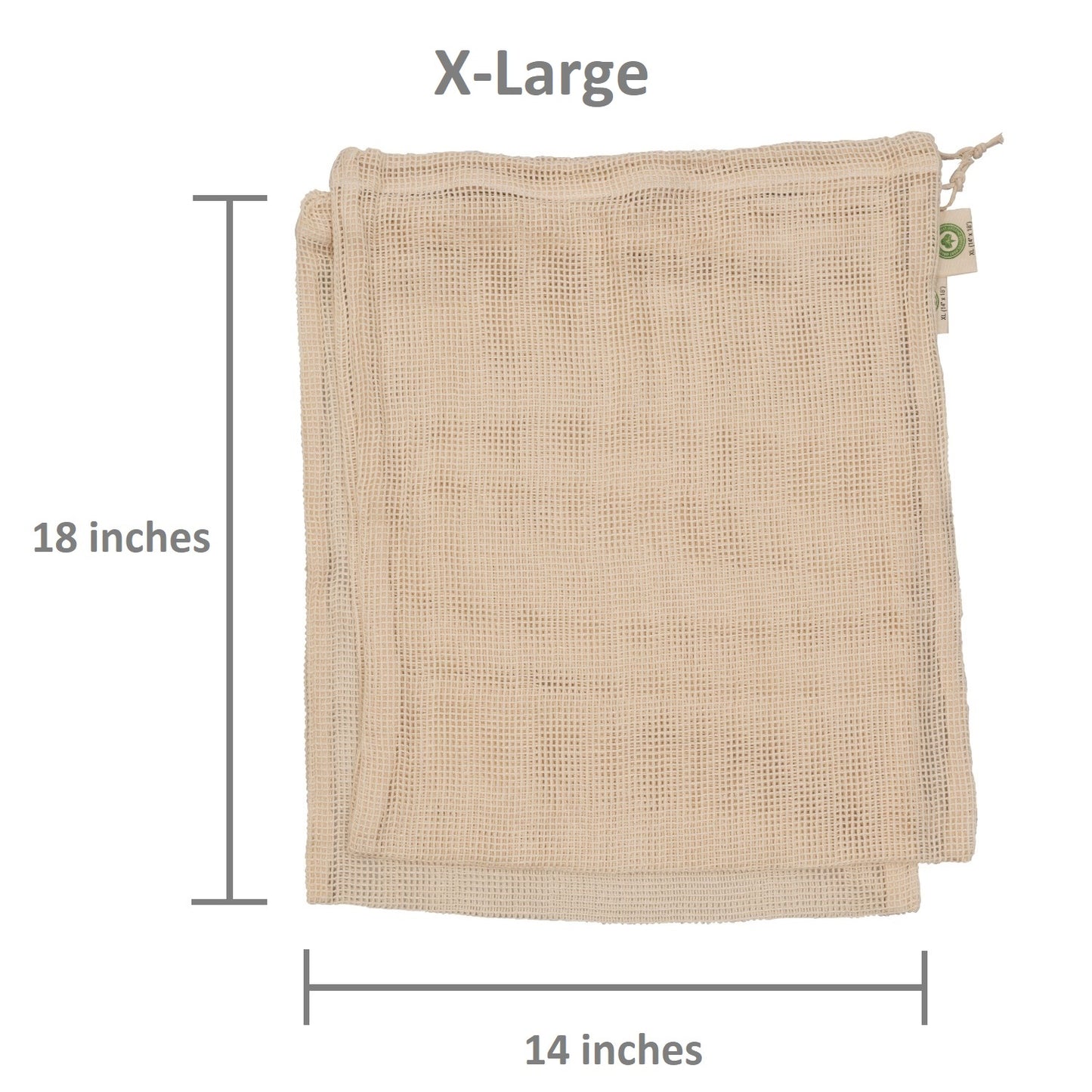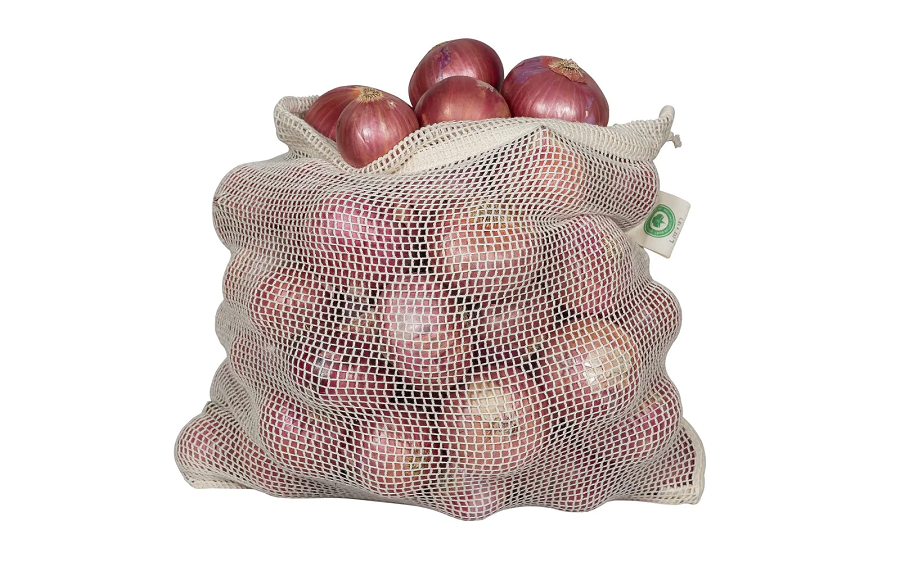 Protect And Hold Onion & Other Root Vegetables: Our cotton mesh bags for storing onions are gentle on even delicate vegetables and fruits to prevent any bruising when storing at home or carrying while the drawstring closure makes sure everything stays safely inside and fresh
100% Organic Cotton Mesh: The onion storage bags are made using only 100% organic cotton knit fabric to make sure they are both strong and lightweight. They are resistant to tearing and offer a high loading capacity so they can hold more than plastic bags
Reusable And Washable: Our onion storage bags for the pantry are designed with day-to-day use in mind. They are biodegradable and can easily be cleaned by washing in cold water and then air-drying so you can keep reusing them even in the long run
Versatile And Practical: These onion potato storage bags are suitable for storing a wide range of veggies and fruits including tomatoes, mushrooms, apples, berries, peaches, plums, mangoes, bananas, and more while being lightweight for easy carrying
Preserve Freshness: Thanks to the breathability of the onion holder storage bags, they help keep groceries and produce fresh for longer by allowing them to breathe. We don't rely on any single-use plastics to help minimize waste output for a cleaner environment
UPC/GTIN - 00850003116136
We wanted to bring you onion storage bags that were 100% Organic, Reusable and Safe for long-term use. This is why we combine organic cotton with a mesh bag design to offer just the right balance of quality, breathability, and durability so you can easily store and carry both produce and groceries while keeping them safe. With these produce storage mesh bags, you won't have to rely on single-use plastic bags again.
They are made to last, are easy to maintain, and offer more breathability to preserve the freshness of your produce and groceries. We use strong stitching to add another layer of durability and resist tearing which coupled with the quality cotton fabric make sure the potato and onion storage bags can handle day-to-day use. Our onion-holding mesh bags are washable to make reusing a breeze and soft enough to prevent bruising or damaging your groceries.
Reduce waste output, support a clean environment, and keep your veggies fresh with our organic cotton mesh produce bags!

Great mesh produce bags
I absolutely love these bags for produce ! Once home from the grocery, they go right into the fridge and keep produce fresh. Washes great as well!
Mesh bags
So glad I broke down and ordered these! The 3-sizes are perfect for holding my produce securely in my grocery totes. No more stray lemons rolling around the bottom of the bag. These are beautifully constructed. Very pleased!
Just what I was looking for
These mesh produce bags are just what I was looking for.
Love these!
Work so well for my produce shopping needs. Lightweight and easy to use!
Repeat Produce Bag Buyer
We've used these bags for years, I prefer that there are no metal pieces. Other brands do and the pieces eventually break off. The rang of sizes are great.
Wonderful!
The mixed sizes of the bags are very useful. They help me enormously in my personal compaigne against plastic.
Quick delivery! They are exactly what I wa...
Quick delivery! They are exactly what I was looking for.
Excellent quality and quick service!
Excellent quality and quick service!
Exactly what I wanted, and I ordered two s...
Exactly what I wanted, and I ordered two sets to give out as gifts. The bags are super sturdy and look easily cleanable. Thrilled to add these to the grocery outings and be a bit more environmentally minded.