Regular price
Sale price
$12.99
Unit price
per
Sale
Sold out
Made from 100% Certified Organic Cotton
Grade 90
Unbleached, Natural, Washable, and Reusable Cheesecloth
Perfect for Turkey Basting, Cooking, and Baking
36"x36"
Share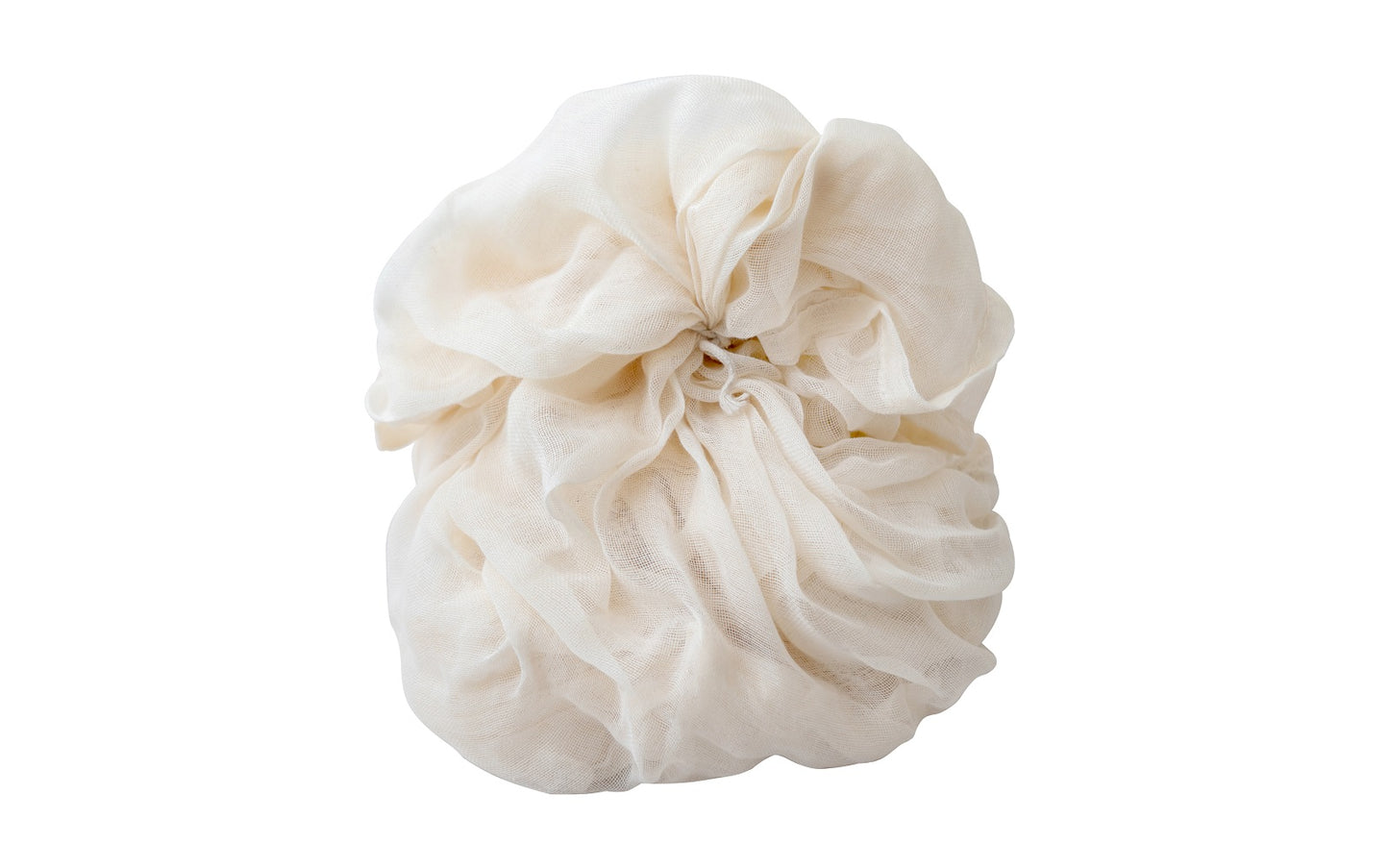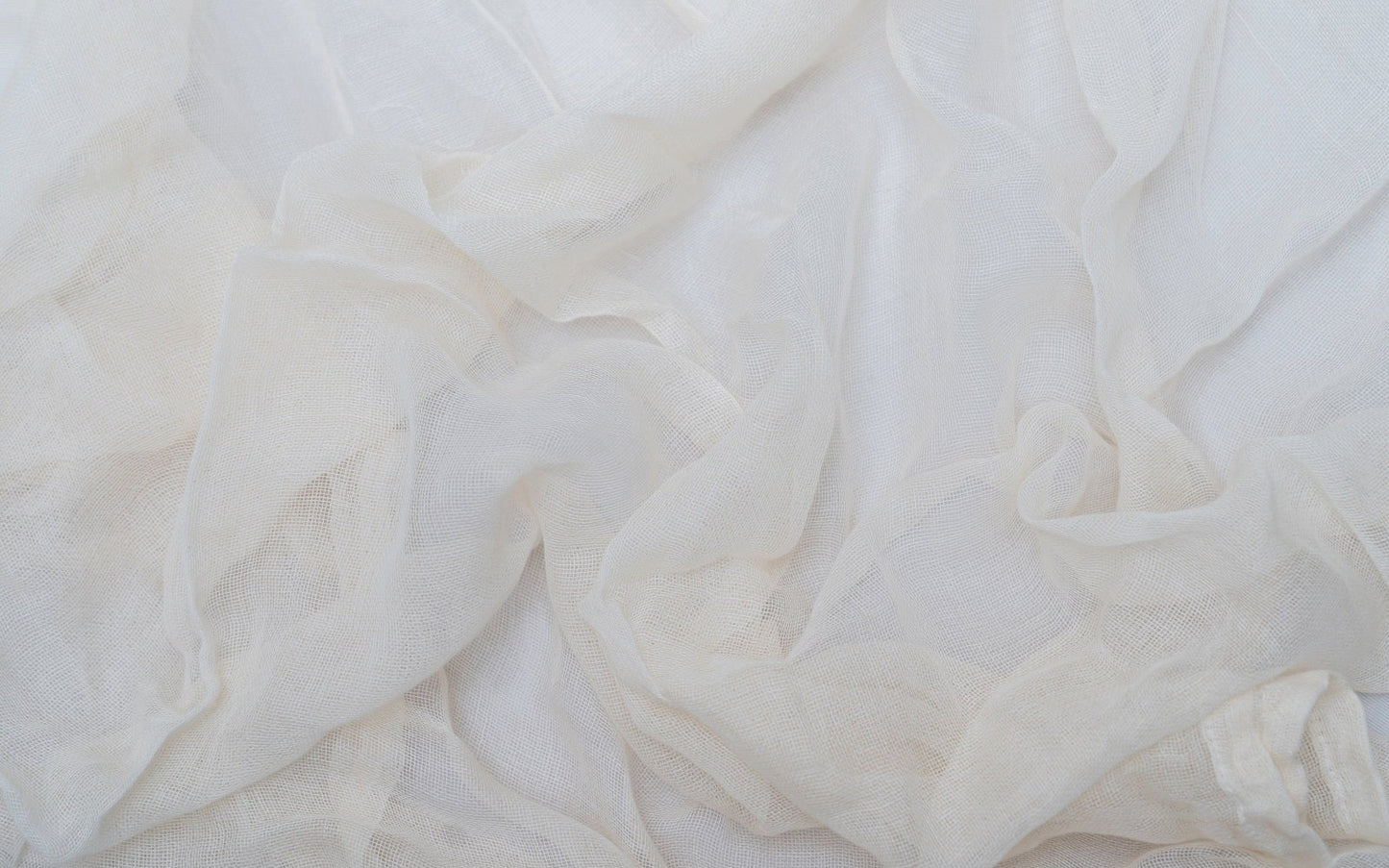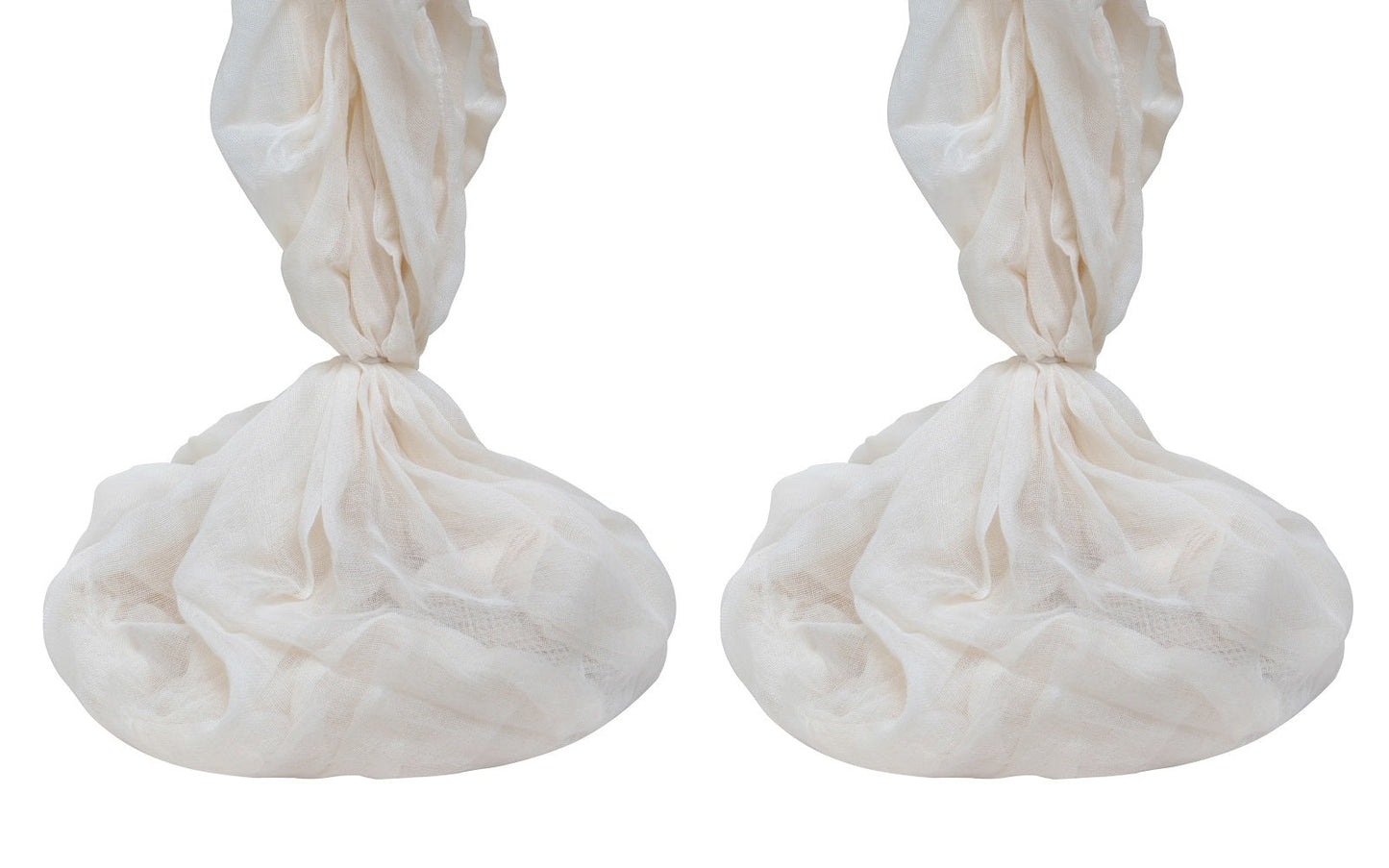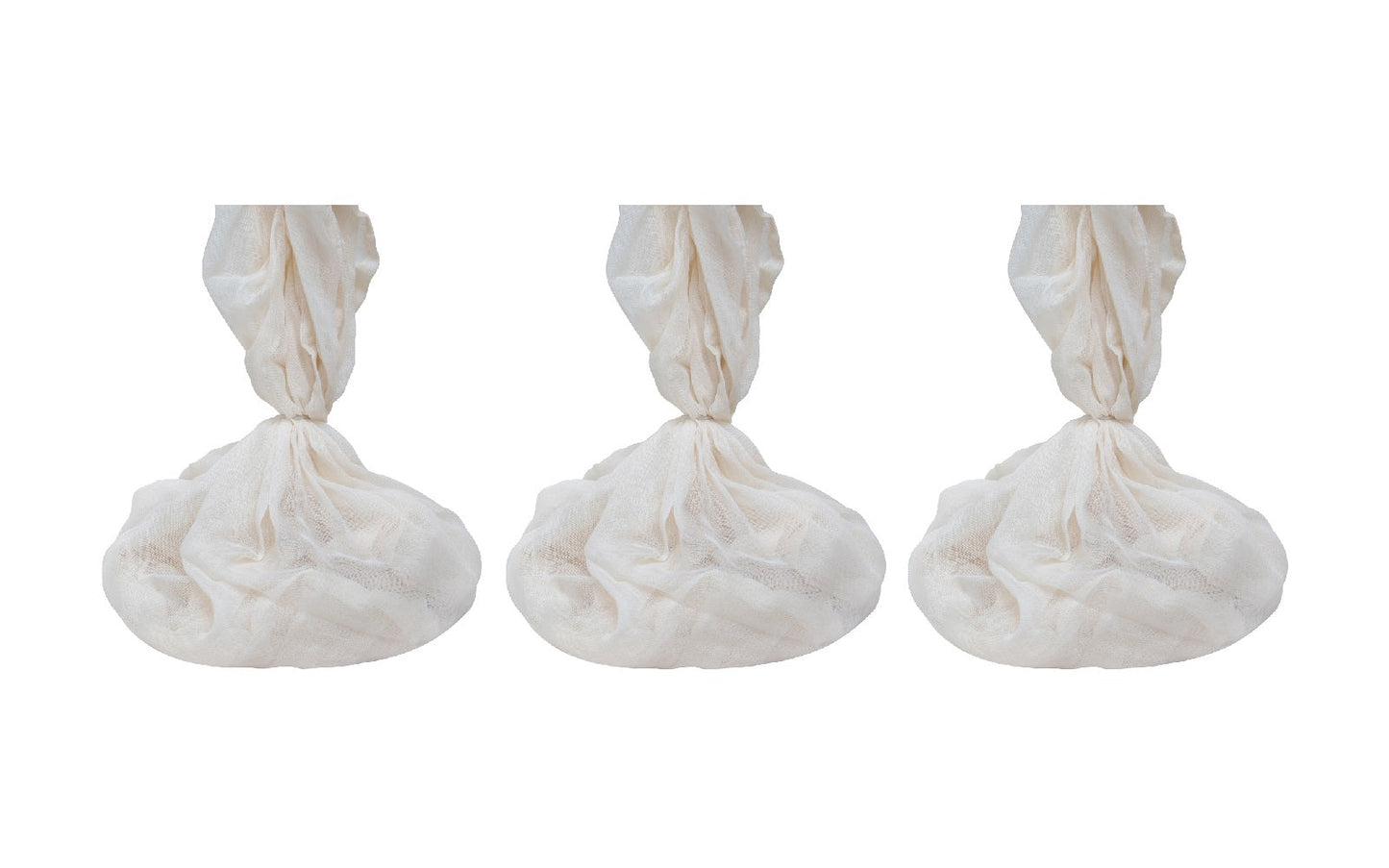 CHEESECLOTH FOR STRAINING
REUSABLE CHEESECLOTH: Reusable cheesecloth is a great green option for those looking to reduce household waste. Simply wash and dry our unbleached cheesecloth and it's ready to go for your next cooking endeavor. While some cheesecloths on the market break down after one or two washes, our product is truly a reliable and reusable cheesecloth that's high-quality cotton allows for continual use.
CHEESECLOTH FOR COOKING: Our cheesecloth is 100% unbleached, organic, safe, and reusable. With its versatility and durability, this organic cheesecloth is a must-have for any home cook or hobby chef looking for ways to reduce clutter in the kitchen and invest in sustainable kitchenware.
ORGANIC COTTON CHEESECLOTH: Made of certified organic, unbleached cotton, our cheesecloth is a healthy and holistic choice. No loose fibers, no lint, and no affecting the taste or safety of your food. We offer a Grade #90 straining cloth with 44 x 36 threads per inch, an ultra-fine mesh capable of filtering out impurities much better than other cloths on the market.
CHEESECLOTH FOR STRAINING: Our organic cheesecloth is delivered as a 36 x 36-inch sheet, meaning you can cut the exact lengths you need to work best in your kitchen needs including for straining yogurt, cheese, coffee or kefir.
We guarantee our organic cheesecloth is a versatile, dependable, and efficient kitchen accessory suitable to any chef or home cook.
USING CHEESECLOTH FOR HOMEMADE CHEESE
Cheesecloth gained its stardom for its lightweight and breathable texture that allowed aging cheese to breathe while staying protected with curds held firmly together. The gauzy material is wrapped around cheese wheels to help the aging process or used to hang cheese curds.
The more whey separated from the curdled mixture, the harder the cheese and vice versa for softer cheese. Most often, cheddar is aged through bandaging with a cheesecloth wrap, but ricotta, farmer's (also known as fresh), queso blanco, quark, paneer, and goat cheese can also be made with help from the breathable fabric.
Soaking cheesecloth in white vinegar and wrapping it around stored cheese is a simple way to protect the cheese from growing mold.
COTTON CHEESECLOTH FOR COOKING
While cheesecloth is the go-to for anyone looking to make their own cheese, it also comes with a wide range of uses in the kitchen. Our organic cheesecloth is well suited for cooking, baking, basting, fermenting, and straining.
The culinary possibilities of unbleached cheesecloth are endless! Using cheesecloth for cooking is a great option for any commercial or home cook. The gauzy material lends itself well to cooking with poultry and can be used for basting, resulting in incredibly tender chicken. Simply douse the cloth in your go-to basting mix and wrap around the poultry or turkey for your Thanksgiving dinner. It's that simple!
For plant-based diets, cheesecloth works wonders for making your own tofu. Similar to the cheese-making process, tofu can be made using a cheesecloth strainer by separating the curdled mixture and whey over a bowl.
Have a recipe that calls for herbs? Avoid stems from getting in your favorite soups by bundling herbs in a cheesecloth wrap. The unbleached cheesecloth will allow for the deep herbal flavors to soak into your stew while keeping stems out of your bowl.
Another great option for using cheesecloth for cooking is creating a cheesecloth strainer when a recipe calls for a fine sieve. Our organic reusable cheesecloth is made with an extra-fine weave, offering a Grade 90 straining cloth with 44 x 36 threads per inch – a convenient substitute for an extra fine sieve.
Cheesecloth is an extra handy tool when making jams and can be used to separate those pecky seeds from your favorite jelly.
OTHER VERSATILE HOUSEHOLD USES
The fabric is incredibly versatile and alongside a long list of cooking uses, can be used for many practical tasks.
For tea fans, cheesecloth can make great do-it-yourself teabags. Simply gather your favorite ingredients, bundle them up in cheesecloth, and secure the bag. It's an easy way to enjoy a homemade cup of tea without the grit known to loose-leaf teas.
Coffee lovers short of filters can also utilize organic cheesecloth for making a hot cup of joe in the morning.
Pesky summertime bugs can be kept at bay by covering fruit and other countertop foods with a layer of cheesecloth.
Unbleached cheesecloth can even be used to cover up injuries and protect open wounds from bacteria. After medical use, reusable cheesecloth can be sanitized by boiling in water.
Is Cheesecloth Reusable?
Yes, cheesecloth is reusable. You can wash a used cheesecloth by hand, dry it on counter and reuse it.
HOW TO CLEAN YOUR CHEESECLOTH
Cleaning reusable cheesecloth is a simple process: 1. Rinse immediately after use 2. Wash thoroughly in the sink or alone in the washing machine, avoiding the use of detergents and fabric softeners 3. Use whey or white vinegar to remove straggling curds or leftover material 4. Boil and hang cheesecloth for extra sterilization 5. Once dry, fold and store in a sealed container until next use.
CHEESECLOTH GRADES
Before strainers, cheesecloth was the go-to kitchen tool for straining. The versatile material originated in Bangladesh and made its way to Europe through trade and from there, traveled across the ocean to the Americas.
Cheesecloth comes in at least seven different grades, from open weave to extra fine distinguished by thread count. The difference in grade will result in finer straining capacities for each type of cheesecloth. Common cheesecloth grades include:
Grade #10: 20 x 12 threads per inch
Grade #40: 24 x 20 threads per inch
Grade #50: 28 x 24 threads per inch
Grade #60: 32 x 28 threads per inch
Grade #90: 44 x 36 threads per inch
Cheesecloth is a loosely-woven cotton cloth primarily used for making cheese, though many cooks boast its versatility and utilize the material when making almond milk, ketchup, fruit drinks, and an assortment of other homemade goodies. The lightweight material allows for air and liquids to flow through the weave while its durable surface keeps food secure. Organic cotton cheesecloth is the perfect addition to any kitchen.
We guarantee the quality of every item and promise fast delivery. If for any reason you are not satisfied with the product you can always return it for full refund. We will even pay for the return shipping.
This cheesecloth are made in India using the finest and locally grown organic cotton. The fabric is organic cotton.
Looking to purchase more than 25 cheesecloths? Please check our Bulk Cheececloth.

Excellent Cheesecloth
Very high-quality cheesecloth, if a bit pricey compared to other options. Ended up buying from organic cotton mart opposed to less expensive competitors because their cheesecloth information page was so good. In this instance, you get what you pay for, and it's a good thing.
Excellent product
Very good quality. Holds together and washes well. Love that it's organic - I use cheesecloth to cook with and strain foods - I don't need to be simmering pesticides in my soup! Nice and large - can cut down, or just tie in a bunch to use. Good price. I am glad I ordered it!
These are beautifully made, good quality,...
These are beautifully made, good quality, and I am finding them very handy around the kitchen.
This review has no content.
This review has no content.
Yes, great saves me lots of money!
Yes, great saves me lots of money! Can't live without these now. Don't stop selling these great cloths, it would be a shame.
This review has no content.
This review has no content.
This review has no content.
This review has no content.
This review has no content.
This review has no content.
So happy, I will buy more in the future!
So happy, I will buy more in the future!